Anyone remember Meg Ryan sobbing in When Harry Met Sally because "I'm gonna be 40 … someday"? The milestone birthday, wailed Ryan, was "sitting there" in her future, "like this big dead end".
Or, these days, a rich new era, as evidenced by the Duchess of Cambridge's 40th birthday portraits that had me not knowing where to look. The loose waves, such a fantastic change up from her disciplined blowout. The McQueen dress with one shoulder and pockets, Princess Diana's pearl earrings. The minimal make-up. The joie de vivre.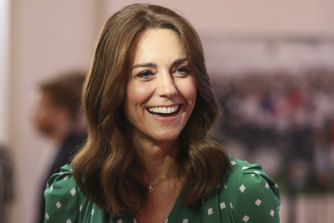 From the outside, Kate Middleton is living her best life at an age her late mother-in-law Princess Diana never got to be. At 40, the Queen was a devotee of ermine and an Easter Island statue solemnity. In fusty suits, the Queen Mother looked like she'd blow a foofer valve walking to the gin decanter.
Kate's 40s are kicking off with staggering wealth, status, fame, a career and life path mapped out for probably 70 years (the royal family's life expectancy is 26 per cent longer than their subjects). By 50, she'll be Princess of Wales, custodian of a title rich with history, tragedy and expectation.
But she's also human. Like a lot of us, she's a mum who will turn the thumbscrews on herself to make good decisions about her family. Friends say she's a perfectionist with low self-esteem, tricky at any age. Amid the monotony of buckling down there'll be times where she questions her choice of bloke, even one who does yoga in white jeans.
I didn't make a great fist of my own 40s. Melanoma, the emotional and financial ruin of divorce, an ambush on national TV that led to the loss of a beloved job. So now from the comfy vantage point of my sixth decade I have ideas about what not to do.
Kate, I hope this is more useful than that dream diary Meghan Markle handed over when you turned 35.
Don't take relationships for granted. Protect and respect them. Have a confidante you can ring to say "I need help" or "I need fun". Yep, you must fight your corner but don't make anyone else your punching bag. Sort out your own stuff. Know you don't need to apply a moral prism to keeping secrets.
Don't think rough patches mean the end of a marriage. Everyone thinks about divorce at some stage. Royals have become old hands at it. But best you sort out problems sooner rather than later. Counselling is not a step toward a marriage ending if you tell the truth.